Match date: 16 December 2017
The build up to the match saw compliments being traded between Guardiola and Pochettino, who started coaching against one another in 2009 with Guardiola in his first season as Barcelona's manager and Pochettino coming in halfway through the year with Espanyol. Pochettino's first win as manager of Espanyol came in the Catalan derby, beating Pep's Barcelona 2-1 by coming out an pressing Guardiola's team that day. In this match, Pochettino tried to do the same and for parts of the match it worked.
Manchester City were without David Silva, so Gündoğan started in midfield, with Agüero preferred up top to Gabriel Jesus. The Manchester side setup in a 4-3-3 while Spurs looked very much like a 4-4-2 with a diamond midfield. Mousa Dembele was at the base of the diamond, Harry Winks was on the left, Eriksen on the right, and Alli at the top, with Kane and Son as the front two.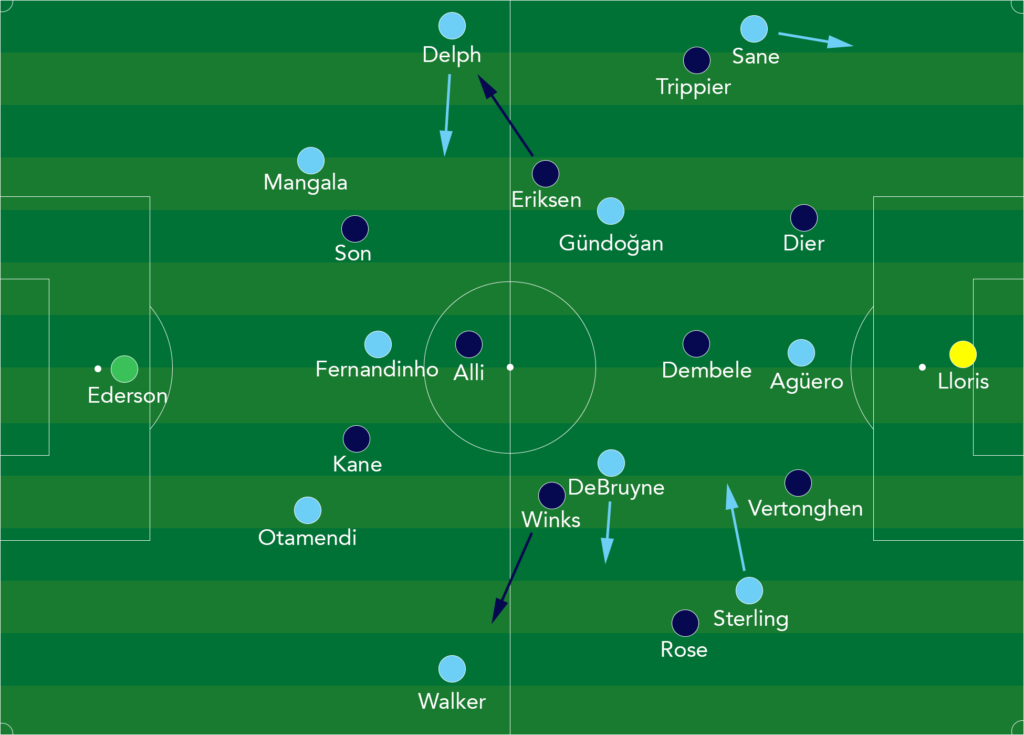 Spurs Press, City Go Short and Long
Contrary to what other teams have done against Manchester City so far this year, Tottenham came out with an intent to control the game, pressing high and looking to get on the ball. For Spurs, it worked for a bit: they caused a relatively open and somewhat frantic game for the opening ten minutes of the tie and neither team was really able to get a hold of the game in the middle third. In their 4-4-2, Son and Kane led Spurs' press when Ederson, Otamendi, or Mangala had the ball, with Alli sticking to Fernandinho. With the ball central, Winks and Eriksen were responsible for Gündoğan and De Bruyne, but the issues for Spurs' press seemed to come after that first line was shifted or broken as Winks and Eriksen got a bit stretched having to move a bit wider if Delph or Walker got the ball on a quick switch. Below is a screenshot from earlier on in the game. Ederson had the ball centrally, played it out wide to Mangala, which shifted Spurs over, including Kane. Mangala played the ball back across to Ederson, who quickly played it over to Walker, which meant that Winks had to sprint about 40 or 50 yards to close the right back down. Kane would have be responsible for applying pressure on Walker, but had shifted over once the ball went out to Mangala. With Winks going to close down Walker, De Bruyne was left free to be the out ball and Danny Rose came in to close down. On this particularly phase, Tottenham won the ball back briefly, but gave it away.

City were able to bypass the press this way a number of times, De Bruyne or Gündoğan would find space higher up or Agüero would show deeper for the ball, and City would combine quickly to get out of this space. Early on in the match, there were a number of times where Otamendi, in particular, was able to break the lines, below is perhaps the best snapshot of that. Pressed by Son, the City centreback plays the ball into Gündoğan, taking out Tottenham's midfield four and  leading to the build up that saw Sane beat Trippier for the first time and put a ball into the box.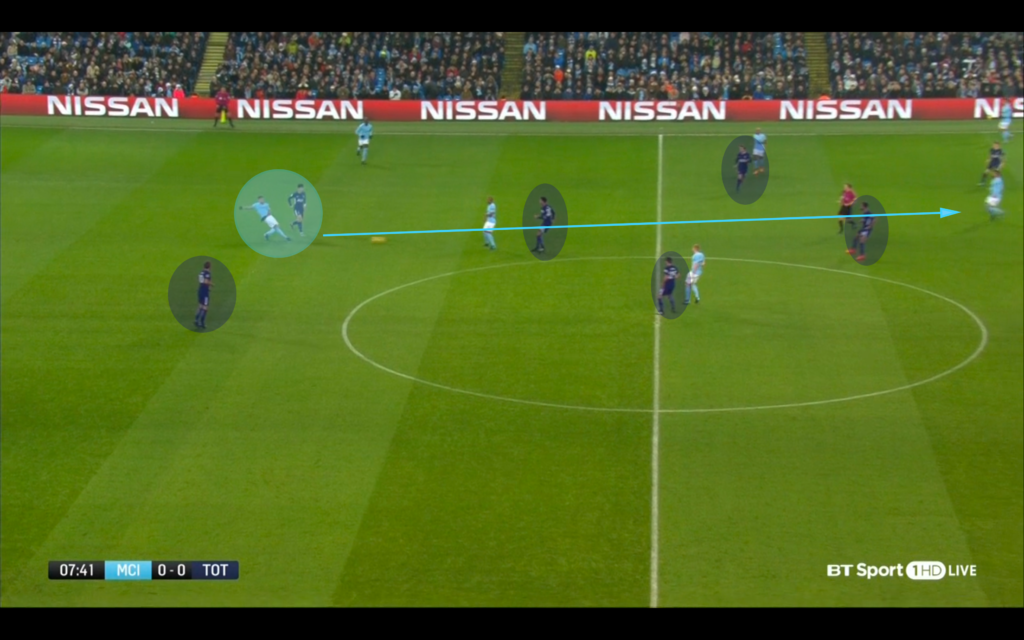 After the first goal of the match by Gündoğan (another set piece goal for City coming off of the two last week), City were able to get more control on the game and forced Spurs back more. About 30 minutes into the match, with the score still 1-0, Pochettino switched his side to a 4-2-3-1, with Alli behind Kane and Son and Eriksen on either side and remained insistent on his side continuing to press when the ball was deep in City's half and did so with more compactness between the lines. This obviously made it slightly harder for City to play out, but Ederson was able to play longer to bypass the press with City's front three staying very high and Spurs going 3v3 at the back. Below is an example of Spurs committing seven players forward (Alli is out of the picture, picking up Mangala) on a City goal kick and Ederson playing long into Sterling.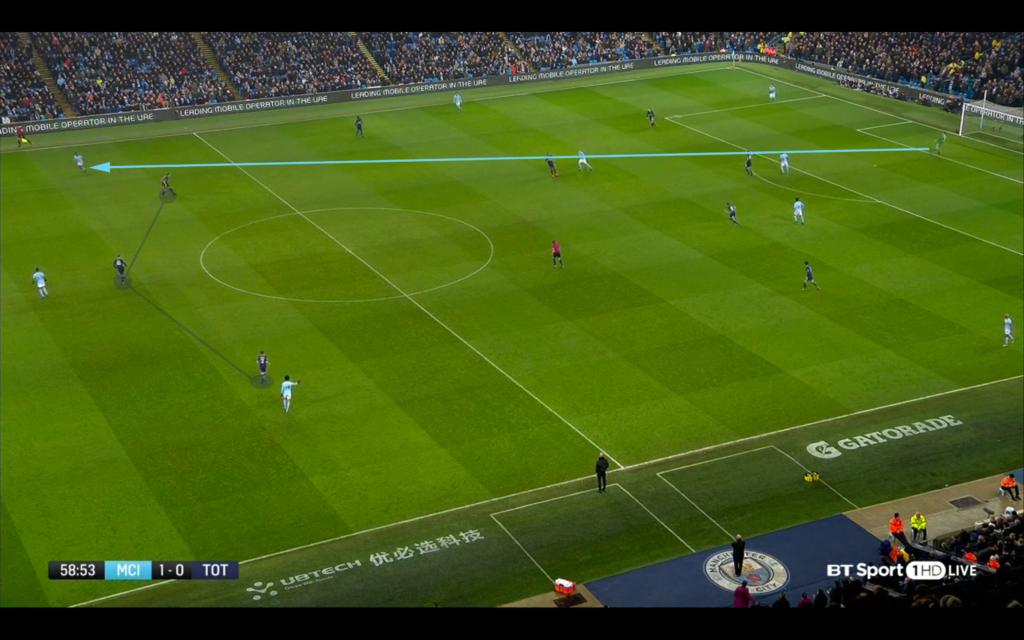 There is a huge amount of space in midfield in the above picture. City literally had the ability to play short and build through the thirds or bypass that completely and get 10-20 yards inside of the opposition half. This was the result of Pochettino wanting to press high and seemingly being okay with doing 3v3 at the back and Ederson's ability to pick out these passes, something other keepers struggle to do with relative consistency. Coming into the match, Ederson had averaged just under 4 long balls per game (3.7), but against Spurs, he played 19, perhaps this would have been a compliment to the effectiveness of Spurs pressing, but the City goalkeeper completed 15 of those long balls.
City Press, Spurs Struggle
The pressing by City was interesting and effective as Spurs, too, wanted to play out of the back and build rather than attempt to counter. De Bruyne and Gündoğan were important here as they supported Agüero in pressing Lloris, Vertonghen, and Dier. This was supported by, typically, Sterling tucking inside so that City did not become outnumbered in midfield. When Spurs were able to, however, Rose was a good outlet, as Sterling had tucked in, but they struggled to do so with consistency. Even still, City wanted play to go into Rose and Trippier, the home side were outnumbered in midfield (4v3) in the first half and with De Bruyne and Gündoğan rotating in and out of midfield to support the press higher, it left them to a greater numerical disadvantage. There were times when the ball would go wide to Rose and he would be able to find a free player centrally, but it was always a bit too slow for Spurs in the middle third.
Lloris' distribution was slow and limited in range, a stark contrast to Ederson's influence on City's possession. Lloris would often play the ball out or play the ball into Vertonghen and Dier in very tough situations and with City pressing, the two centre backs struggled to deal with the pressure.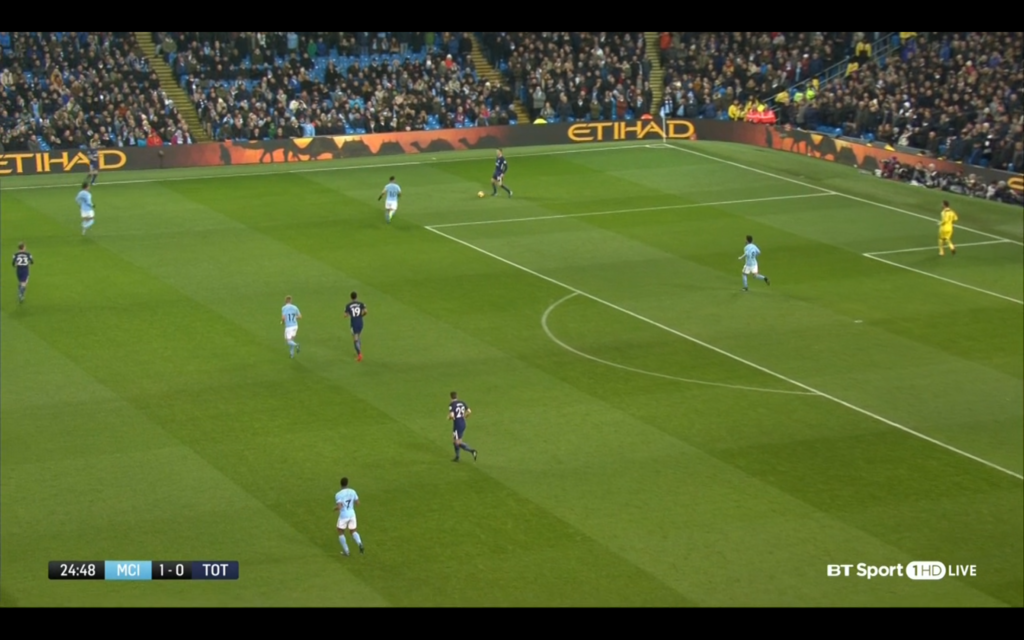 In the above shot, you can see Gündoğan has moved forward to support the press and City were able to force the ball wide into Dier. What happened a lot in this situation, when Dier and Vertonghen got on the ball in these situations with a bit of pressure, was that they would try to play over the next line of pressure into Son, Kane, or Alli, but those players were ultimately a bit isolated and were not able to really hold the ball up well in these situations if they were not beat to the ball first by a City defender.
De Bruyne
The Belgian had another fantastic game for City and is undoubtedly the best player in the league at the moment. On the ball, he was excellent, creating six chances, two more than the entirety of Spurs, and off the ball, his pressing and energy were fantastic. He won six tackles, covered the most distances out of anyone (12.1km) and had the most sprints (85), both of which were evident when watching him when City did not have the ball. He scored the second goal of the game in the 70th minute to put City firmly in control.
De Bruyne has excelled under Guardiola and has been an influential figure in many of City's games against other top teams in the league with a goal or assist against Liverpool, Chelsea, Arsenal, and Tottenham. Much of City's best play on the day came through the Belgian and, again, he did it on both sides of the ball. In Guardiola's post match press conference, he said:
'You see him how he runs without the ball, he's a good example for the young players and for our academy, for Phil Foden, for Brahim, they know how good Kevin De Bruyne is. When they are outside and see how he runs and fights without the ball, that is the best example and he helps us to be a better club, a better institution for the future. His performance today, I have no words, no words to describe what he has done with the ball, how many assists, and his ability to switch play. All the time he's using his head, and overall, without the ball, he's able to make pressure 40 metres to the goalkeeper and when this happens the people who are behind him are like 'if that guys runs like this, I have to run as well' and after that a team like Tottenham, who are able to play so good, we are able to minimise the situations because every time Eriksen or Harry Kane receives the ball in that position they are always trembling.' – Guardiola on De Bruyne
Pochettino's Changes
As noted in the above sections, Pochettino switched his side from a 4-4-2 diamond midfield to a 4-2-3-1 about 30 minutes into the match, with Dembele and Winks as the 2 and Son, Alli, and Eriksen across for the 3, but it really did not have much of an impact on the match. The idea was simple, to match the Manchester City midfield man-for-man, 3v3, and then allowing Alli to support Kane in pressing the centre backs when need be, and Son and Eriksen could deal with the fullbacks. However, with the change in pressing and shape, City were still able to find ways out and, when they could not play short, Ederson was able to find a longer pass into City's front three. Going forward, Spurs did not not a shot on target until the 55th minute, after the switch to 4-2-3-1 and only had two throughout the game.
The introduction of Lamela in the 77th minute gave Tottenham a bit of a spark, albeit a little too late, as the score was already 2-0. Almost immediately, the Argentine picked up a loose ball inside of City's penalty area, got by two City players and put a ball across the box that deflected to Winks, who evaded a few tackles, but dribbled the ball away from the goal in doing so.
Conclusion
"It wasn't bad at the start, but the way we conceded from a corner was a big mistake and a massive present for them. When you play a team in very good form, you cannot give away these gifts." This is an excerpt from Pochettino's press conference after the match and it is very true: Spurs started the game well enough, they forced City into errors, and they themselves had errors. To concede in the way they did must have been incredibly frustrating, in fact, you could see Pochettino's head drop when Gündoğan headed in the opener. City should have scored a few before the 70th minute when De Bruyne got their second, but they didn't, which makes the first goal even harder for Pochettino and Spurs to have conceded.
For City, it is another good win. Spurs attempted to press them where there were perceived weaknesses in the team, particularly with Mangala at the back, but Guardiola's side were again up to the task. City now have 16 wins in a row and maintain a very comfortable lead at the top of the table. Next time the teams play one another, Alderweireld, Sanchez, and Wanyama could very well be fit, Pochettino could play with three at the back and perhaps the physicality of the game, something Pep referenced when talking about last season's matchups, will be a more influential factor, until then, however, as Pochettino said, 'So far, they (City) are the best team in England.'